RW Elephant offers event rental businesses the ability to seamlessly display their collection on their own websites. Easily show your customers your Rental Items with the images, descriptions, tags, and all of the other important details you've included in your RW Elephant account.
This is all possible through the RW Elephant WordPress Plugin as well as Online Gallery Snippet options through Squarespace and Shopify.
If you're considering platform options for your own personal website, here are the differences between our Gallery options.
Since WordPress is an open-source platform, this allows third party developers (like RW) some extra flexibility. Specifically for the RW Elephant Plugin, this includes Wishlist functionality, integrated Payment Pages, and lots of customization options.
GALLERY
All of our integrations (WordPress, Squarespace, & Shopify) allow you to display your inventory collection in an online gallery on your website. This includes the following fields: Item Name, Images, Descriptions, Rental Price, Quantity, & Item Tags.
Choose the page where you want your gallery to live and the Plugin or Snippet will display thumbnails of all of your Categories. Each of these Categories will have the default thumbnail determined by the first image of the first item in the category.
See an example of a customized WordPress site for our fake rental company Musical Chairs here and a demo Squarespace site here.
The integrations will automatically inherit basic styling directly from your installed theme CSS.
WORDPRESS GALLERY
The RW Elephant WordPress Plugin specifically allows for a bit more customization. For example, you can upload a custom thumbnail for each Category to the plugin directly.
Additionally, the WordPress Plugin provide the ability to manually configure button colors through custom plugin settings.
Once you're on a Category page, RW will display all of the Items within the Category including Kits.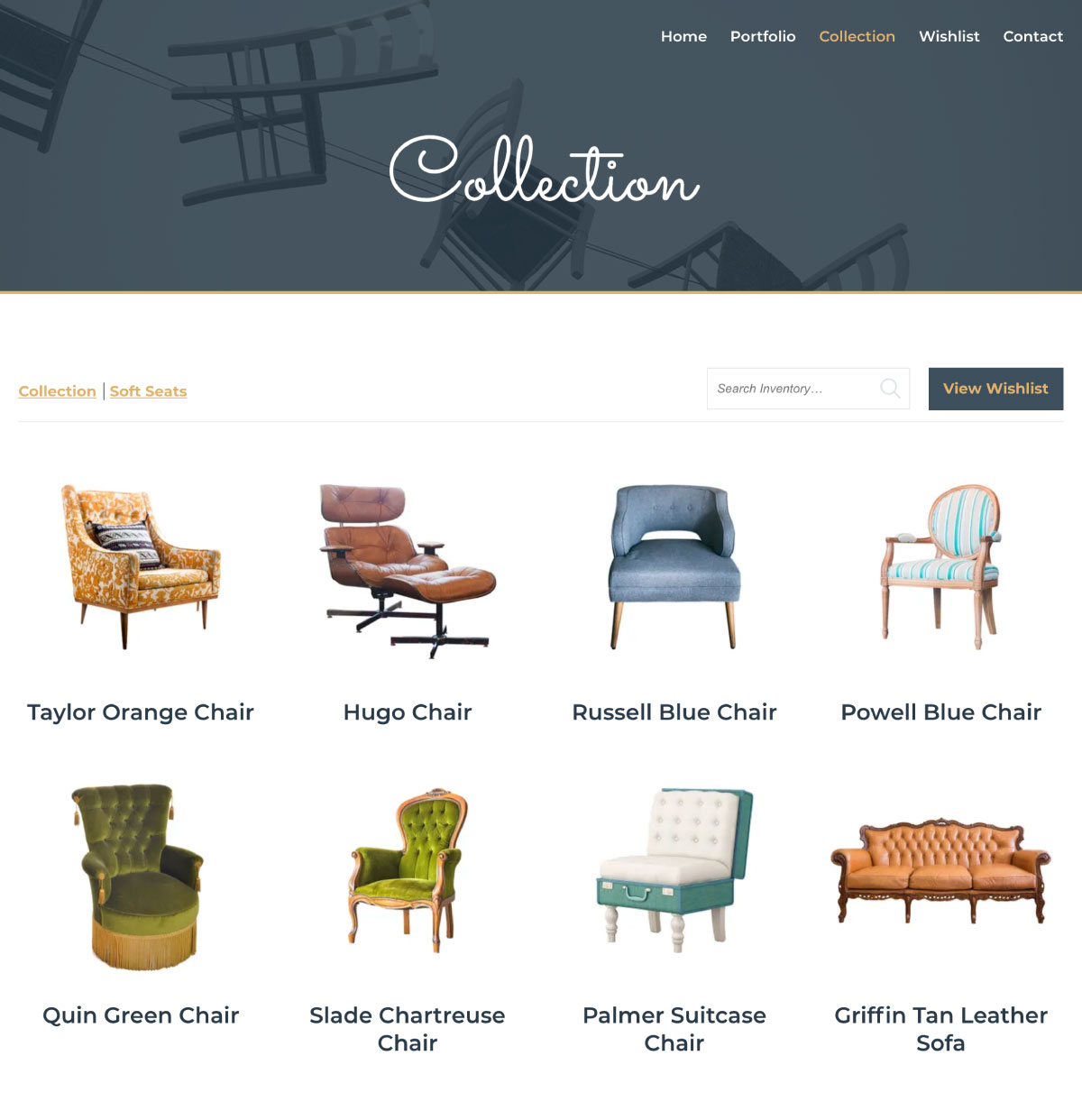 Individual Item pages can be configured with the image on the left and info on the right or vice versa. Item details can include price, description, quantity, dimensions, tags, Custom ID, and custom fields 1 & 2.
We've also included a section for you to add a recurring note to all of your Individual Item pages. Many of our clients have used this area to remind their customers about booking policies, availability, contact info, etc.
Other Item page options include Pinterest buttons, contact buttons, Kit display options,
and Related Item Options displays.
WISHLIST
Allow your customers to create Wishlists online through any one of our integrations.The goal of the Wishlist is basically a warm-lead generator.
We want you to get info from potential customers including contact and what they are interested in renting. We hope this will be a springboard for the beginning of your sales process (pick up the phone, shoot them an email, set up a time to connect, etc.). We view this as a way to get people to raise their hands and let you know they are interested in your collection— not as the beginning of an online transaction.
Because we want the barrier to raising their hand to be quite low, we require very few fields in order for your potential customer to submit a Wishlist. These include First and Last Name, Email Address, Phone Number, and Event Date.
The RW WordPress Plugin Settings allows you to add Additional Wishlist Form Fields. Info you collect here will be mapped to the Internal Note field of the Order. But, again, since we suggest that you make it as easy as possible for your potential clients to raise their hand and let you know they're interested, you should be cautious about requiring too much info up-front in this process.
PAYMENT PAGES
*Available only through the WordPress Plugin.
RW Elephant allows clients to process credit cards via Online Payment Pages through our payment processing partner Stripe. The default payment pages are hosted by RW Elephant with minimal branding (your logo and company name). Within this version of the Plugin, you'll be able to host your own payment pages to have an integrated look and feel. With these Plugin-based payment pages, your customers will be directed to your site (not RW) for online payments and have a consistent branded experience.
To enable integrated Payment Pages, you'll need to configure https (TLS/SSL) on your WordPress site and then notify us at help@rwelephant.com about the URL where you'll host your payment pages so we can configure your payment links within your RW Elephant account.
Find out more about installing and configuring our WordPress Plugin.